OsteoPad Pulsed Electromagnetic Field Therapy (PEMF)
The OsteoPad Bone Hardener and Cartilage Rebuilder keeps bones strong, speeds healing, relieves pain, benefits the prostate, reverses arthritis, and more. The power of the EM Pulser for larger coverage with a 20″ x 14″ (Single) or 60″ x 14″ (Maxi) pad. The only NANOSECOND PEMF device!
For a limited time: 
Get the Tourmaline Self-Heating Neck Guard as a complimentary gift with purchase of the EM Pulser, EM PulsePad, and OsteoPad.
$795.00 – $1,995.00
The basic OsteoPad for $795 comes with one 20″ x 14″ pad and controller.
The OsteoPad MaxiMat for $1295 comes with one 60″ x 14″ pad and a controller.
The OsteoPad MaxiMat Deluxe for $1995 comes with two 60″ x 14″ pads and a 2 pad controller.
Free Priority Mail Insured S&H in US on orders over $49.
Shipping charges to other countries shown at checkout.
We have found that PEMF works better than any other modality for pain relief and accelerated healing. The EM Pulser,  EM PulsePad, and OsteoPad will often work better than ice on injuries, and you can apply it constantly for long periods as opposed to other modalities like ice, heat, light, etc. PEMF speeds healing and recovery time, has beneficial effects on all parts of the body, increases bone density, etc.
Description
Description
A New Healing Paradigm: Pulsed Electromagnetic Fields (PEMF)
Pain Relief and Accelerated Healing Without Side Effects
OsteoPads look like heating pads but produce no heat. They emit a gentle, pulsed magnetic field designed for prolonged use to strengthen bones, reduce pain, and speed healing throughout the body. Sleep on them at night or use during the day.
3 models:
Single  $795 (1 14"x20" pad)
MaxiMat Single  $1295 (1 60″ x 14″ Full body pad)
MaxiMat Double $1995  (2 60″ x 14″ Full body pads)
The OsteoPad, like the EM Pulser and the EM PulsePad, emits nano-second (1 billionth of a second!) magnetic pulses 250 times a second that penetrate about 6″. This technique relieves pain in recent injuries better and more safely than ice while promoting longer-lasting changes than any other modality (light, sound, e-stim, etc). It enhances and accelerates the body's own natural healing ability, causing tissue and bones to normalize.
The EM Pulser and OsteoPad will have positive effects on arthritis, osteoporosis, and many other conditions over time. While some will experience beneficial changes within a day on acute conditions, chronic issues will usually require extended use to improve.
The EM Pulser works on localized areas while the OsteoPad covers larger areas and works best when used overnight in bed.
FDA approved for healing broken bones that will not knit.
Electromagnetic pulse therapy (EMPT also known as PEMF) has been used throughout Europe and Asia to improve health since World War II. As early as 1968, studies proved the healing effects of magnetic fields. Most recently, a study conducted at Baylor College of Medicine in Houston, Texas, concluded that 76 percent of patients reported a pain decrease greater than the average placebo effect when they wore therapeutic magnets. Pain relief occurred within 45 minutes.
1 out of 2 people will develop osteoporosis. 20 million Americans have osteoarthritis. Reverse Osteopenia and Osteoporosis while sitting or standing.
This amazing new product uses the specific, patented signal for resonating with the bone calcium channels to open them for transport across the cell membrane, thus simulating the performance of weight-bearing exercise. Three medical doctors, Robert Becker (author of The Body Electric), Andrew Bassett, and Arthur Pilla knew their invention prevents and reverses osteoporosis from clinical trials and numerous journal articles. Glen Gordon, MD was the catalyst for designing this product since his EM Pulser signal is very universally beneficial and he used the same circuit in a pad in his own bed! 
It is easy to use, with a flat pancake magnetic coil in a pad connected to the simple Control Box which can be set on the nightstand for all-night treatments. "1 out of every 2 people" in the US suffers or will suffer from bone loss as they age, which is called osteoporosis since the bones become porous without weight-bearing exercise to stimulate the piezoelectric bone to open calcium channels naturally. Presently, 20 million Americans suffer from osteoarthritis as well. Recent research has shown that cartilage is also piezoelectric and that pulsed EMFs, like the OsteoPad signal, can stimulate and restore cartilage ("chondroprotection and chondrogenesis"), as well as reverse osteoarthritis. The OsteoPad signal does the work for you and lets your bones and cartilage absorb calcium and magnesium directly, while you sleep.
"Although the Osteopad helps restore bone and cartilage i have noticed other benefits after using this unique product. I noticed after a short period of time using the Osteopad that it seems to prevent and resolve contractures that occur from not being able to walk. Osteopad helps move fluid in the body. My friend had a chronic ankle injury with cartilage damage and a possible stress fracture on his fibula bone. After a week of using the Osteopad approximately 10 min each session, he is not limping anymore and claims excellent improvement. I feel if he could have used Osteopad more often he may have healed even faster."

"Yes its working. Bones are stronger than using the treadmill using an antigravity treadmill alone. The Osteopad allows me to do exercises which  a few months ago would have put me at high risk to fracture a bone in my feet or legs. Just before I got the Osteopad, I banged my toes on the floor and one toe broke! I would never have chance to walk again if the Osteopad wasn't available."      – Daniel A.
The OsteoPad uses a special "TripleToroid" magnetic field design with three pairs of pancake coils (6 total) in a special, fairly expensive, soft and pliable FlexiCircuit, inside a waterproof vinyl sleeve. Each pair together generates a toroidal (donut-shape) magnetic field that circulates about six inches above the pad to bath the body area with healing nanosecond rise time 250 Hz pulses (1% duty cycle) of gentle magnetic energy (milligauss range alternating, very narrow pulses).
Note: The FDA has not evaluated any of the above statements recently. None of these products are intended to diagnose, treat, cure or prevent disease.
Additional information
Additional information
| | |
| --- | --- |
| Weight | N/A |
| Dimensions | N/A |
| OsteoPad | Single $795 (1 14"x20" pad), MaxiMat Single $1295 (1 Full body pad), MaxiMat Double $1995 (2 Full body pads) |
Specifications
Kit includes:
OsteoPad Single: 14″ x 20″ pad
OsteoPad MaxiMat: 60″ x 14″ pad
120 VAC Controller for nightstand.
Nanosecond risetime pulses (250/second) stimulate HSP70 locally to promote healing. FDA approved for mending bone fractures that will not heal.
The OsteoPad uses a special "TripleToroid" magnetic field design with three pairs of pancake coils (6 total) in a special, fairly expensive FlexiCircuit which is soft and pliable, inside a waterproof vinyl sleeve, each pair together generates a toroidal (donut-shape) magnetic field that circulates about six inches above the pad to bath the body area with healing nanosecond rise time 250 Hz pulses (1% duty cycle) of gentle magnetic energy (milligauss range alternating, very narrow pulses), as diagrammed below.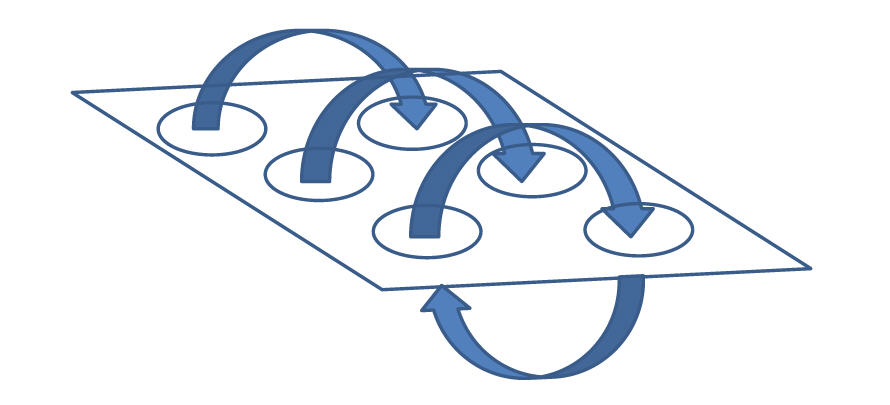 Research
Low Frequency Pulsed Electromagnetic Field — A Viable Alternative Therapy for Arthritis
Abstract:
Arthritis refers to more than 100 disorders of the musculoskeletal system. The existing pharmacological interventions for arthritis offer only symptomatic relief and they are not definitive and curative. Magnetic healing has been known from antiquity and it is evolved to the present times with the advent of electromagnetism. The original basis for the trial of this form of therapy is the interaction between the biological systems with the natural magnetic fields. Optimization of the physical window comprising the electromagnetic field generator and signal properties (frequency, intensity, duration, waveform) with the biological window, inclusive of the experimental model, age and stimulus has helped in achieving consistent beneficial results. Low frequency pulsed electromagnetic field (PEMF) can provide noninvasive, safe and easy to apply method to treat pain, inflammation and dysfunctions associated with rheumatoid arthritis (RA) and osteoarthritis (OA) and PEMF has a long term record of safety. This review focusses on the therapeutic application of PEMF in the treatment of these forms of arthritis. The analysis of various studies (animal models of arthritis, cell culture systems and clinical trials) reporting the use of PEMF for arthritis cure has conclusively shown that PEMF not only alleviates the pain in the arthritis condition but it also affords chondroprotection, exerts antiinflammatory action and helps in bone remodeling and this could be developed as a viable alternative for arthritis therapy.
Warranty/Disclaimer
Unless otherwise specified Elixa products have a one year warranty on parts and labor. This warranty does not cover return S&H.
We only process your order when the item(s) are in stock and ready to ship. Our 30 day money-back guarantee* ensures your satisfaction and our support guarantees your success.
"I personally guarantee your satisfaction." Phil Safier, Pres. Elixa, Ltd.
* When we receive your return in excellent condition, we will issue a refund less 15%. You are responsible for return S&H and we do not refund the initial S&H charge. We will deduct for damaged/missing/worn items. No returns accepted for CDs/MP3s, nutrients, or consumables.
The information provided by ELIXA.COM is for educational and entertainment purposes only and should not be interpreted as a recommendation for a specific treatment plan, product, or course of action. Elixa, Ltd. does not provide specific medical advice, and is not engaged in providing medical or professional services. Use of ELIXA.COM does not replace medical consultations with a qualified health or medical professional to meet the health and medical needs of yourself or a loved one. In addition, while we frequently update the contents of this website, medical information changes rapidly and therefore some information may be out of date. Please check with a physician or health professional if you suspect you are ill. Please review the Terms of Use before using this website. Your use of this website indicates your agreement to be bound by the Terms of Use.
User Manual
Options
Blue LED light reduces bacteria that cause acne, other skin disorders, periodontal conditions. Also helpful for SAD (Seasonal Affect Disorder). Controls MRSA.
Made in USA. Lifetime warranty (excluding physical damage).